Regular paver cleaning and sealing on a Sarasota property protects paver stones, brick, concrete, and other surfaces from premature damage while ensuring they look their best throughout the year. Power washing removes dirt and debris you can't reach with a garden hose, while sealing protects surface colors and fights erosion and premature wear. Paver cleaning and sealing also removes mold and other contaminants, for improved air quality including fewer bothersome odors outside!
If you're like many homeowners, however, you might be putting off professional paver cleaning and sealing for a Sarasota property, perhaps because you don't realize its benefits or because you assume you can manage this work on your own. To ensure you're doing everything possible to keep your home looking its best, note some common questions about patio, walkway, and pool deck cleaning and their sealants. You can then discuss your concerns and options with a power washing contractor in Sarasota and know that your property's exterior surfaces will always look their best.
1. Does Paver Cleaning and Sealing in Sarasota Create Slick Surfaces?
It's a common misconception that paver sealants are similar to wax or acrylic materials, which are often slick and slippery underfoot. However, outdoor sealants are not slippery and don't cause a tripping or slipping hazard. As a matter of fact, sealants protect against mold, moss, mildew, algae, and weed growth, so pavers and other surfaces are safer for foot traffic  after cleaning and sealing than before!
A homeowner or commercial property owner might also note that sealants are applied in very thin layers, just enough to protect stone and other surfaces from damage. Your Sarasota pressure washing contractor can also offer advice on how to ensure your exterior surfaces stay safe during and after sealing.
2. How Often Should You Schedule Sarasota Paver Cleaning and Sealing?
Most properties need exterior power washing, including paver cleaning, every other year or even every three years. While this is sufficient for many homeowners and commercial property owners, you might consider Sarasota paver cleaning and sealing annually, if not even more than once every year!
One reason to consider annual exterior power washing and paver cleaning is that lots of gritty sand, silt, and other residues tend to settle onto Florida properties, and especially those closer to a beach or the coast. Those residues get ground into stone and brick pavers as well as concrete surfaces, leading to premature etching, scratching, and other damage. The longer you go without paver cleaning and sealing in Sarasota, the worse that damage gets!
Another consideration is average foot traffic and other wear and tear on your property. If you have kids who ride bikes over those paver stones or bricks, or if you drive your ATV or other vehicle over them, you'll need more consistent sealing. This will ensure those stones, bricks, and other materials are strong and durable and can withstand all that added abuse!
Paver sealing in Sarasota also provides an added layer of protection against harsh sunlight and other inclement weather conditions common to the area, as well as evaporated pool chlorine and chemicals. To prevent erosion, brittleness that leads to cracking and chipping, and other such damage, consider annual cleaning and especially paver sealing in a pool area for Sarasota FL homes and commercial businesses.
3. Is Stone Cleaning the Same as Brick Paver Sealing in Sarasota?
Brick pavers are an excellent choice for any home as they add lots of color and texture to a patio, walkway, or other such space. Bricks is also durable and easy to repair. As with all other exterior surface materials, regular sealing keeps brick strong while protecting its color and density from erosion and other damage.
Most companies that offer paver cleaning and sealing in Sarasota will readily address brick, gravel, and concrete surfaces as well. If you're not sure if professional power washing is right for your brick surfaces or aren't sure if they need sealing, ask a pressure washing contractor their recommendations for keeping those areas clean and in good repair!
4. Does Sarasota Paver Cleaning and Sealing Loosen Gravel and Small Pavers?
Gravel, small brick and stone, and other such materials are typically tamped down during the installation process, ensuring they stay in place even when faced with lots of heavy traffic and wear and tear. Over the year, they might tend to loosen and move around, and especially when exposed to moist or dry soil or if the installation was very poor-quality without proper tamping.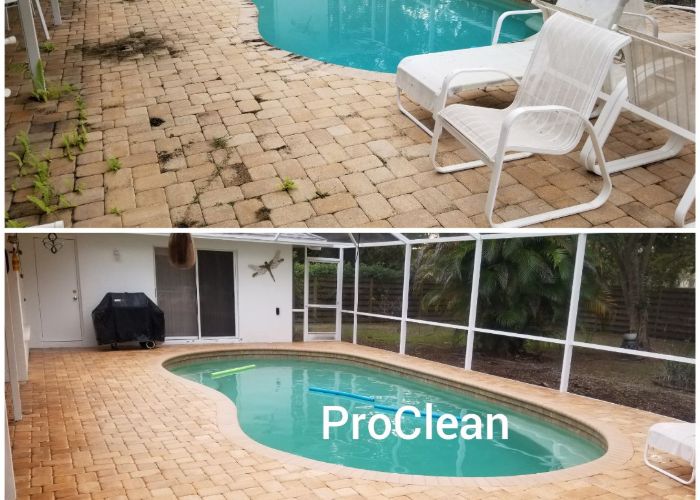 Paver cleaning and sealing in Sarasota shouldn't pull gravel and small stones out of place. Soft wash systems are especially gentle and designed to do minimal damage to the surfaces needing cleaning including gravel and loose rock. A professional, experienced power washing contractor should also know the best pressure and methods to use for various surfaces, including loose gravel, for minimal damage and splatter.
Note, too, that sealants actually provide added protection against pulling gravel and stone out of position. Those sealants add strength and durability to stone and other materials so they can withstand heavy foot traffic, high winds, rain, and other factors that might otherwise loosen them over time.
5. How Much Does Paver Cleaning and Sealing in Sarasota Cost?
Most Sarasota power washing contractors charge by the square foot rather than the hour, or might estimate the time it takes to complete a job and offer a flat rate based on hourly charges. Most homeowners might expect to pay from $75 to $300 for patio, pool deck, and walkway cleaning, while commercial property owners might pay anywhere from $150 to $500 or more for cleaning since their walkways and other areas are typically much larger than residential areas.
No matter your Sarasota paver cleaning and sealing costs, note that this work keeps those stones and other materials in good condition and can help eliminate otherwise unnecessary repairs and replacement. In turn, your paver cleaning and sealing means saving you money over time! The clean and pristine finish as well as improved air quality are also worth that investment.